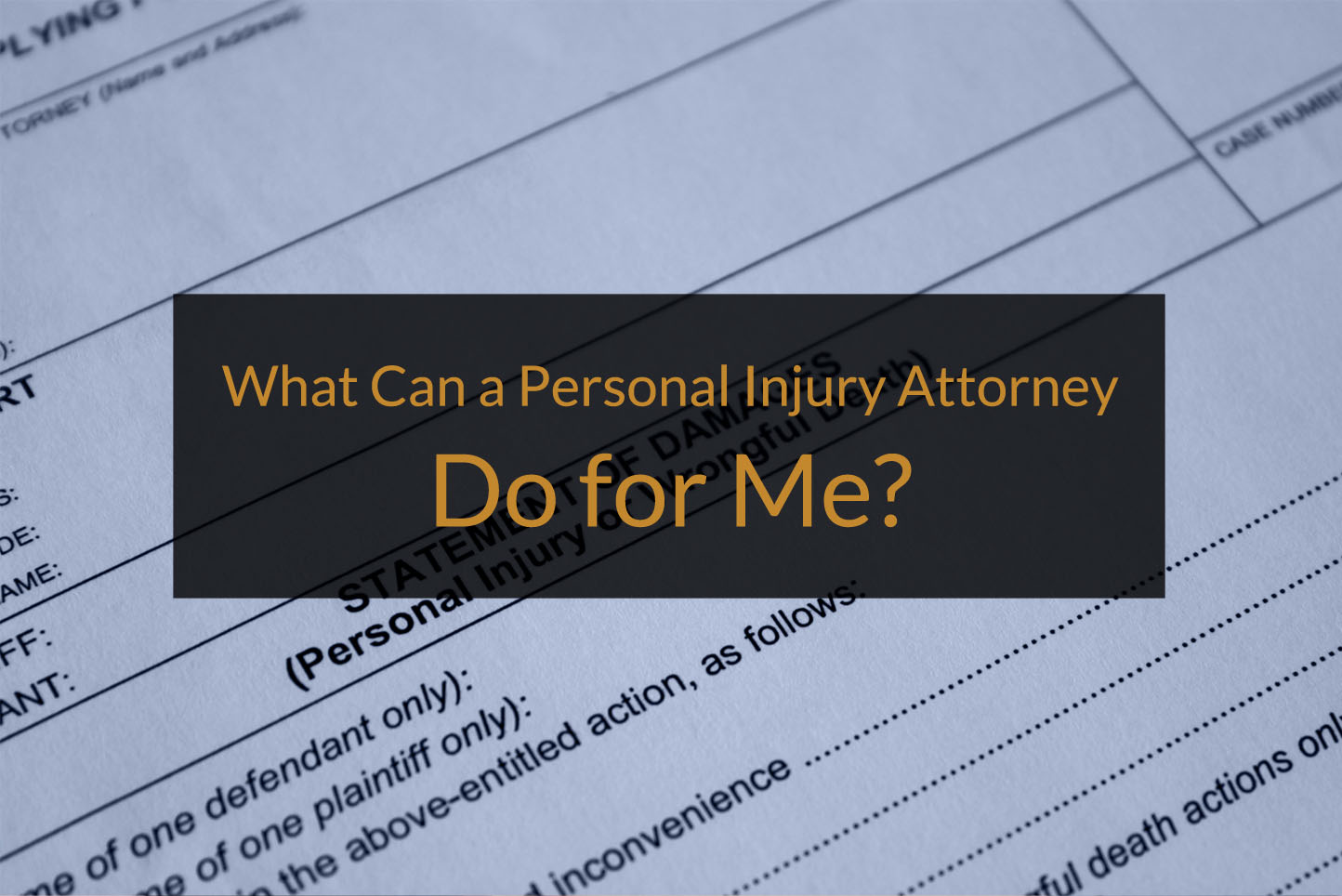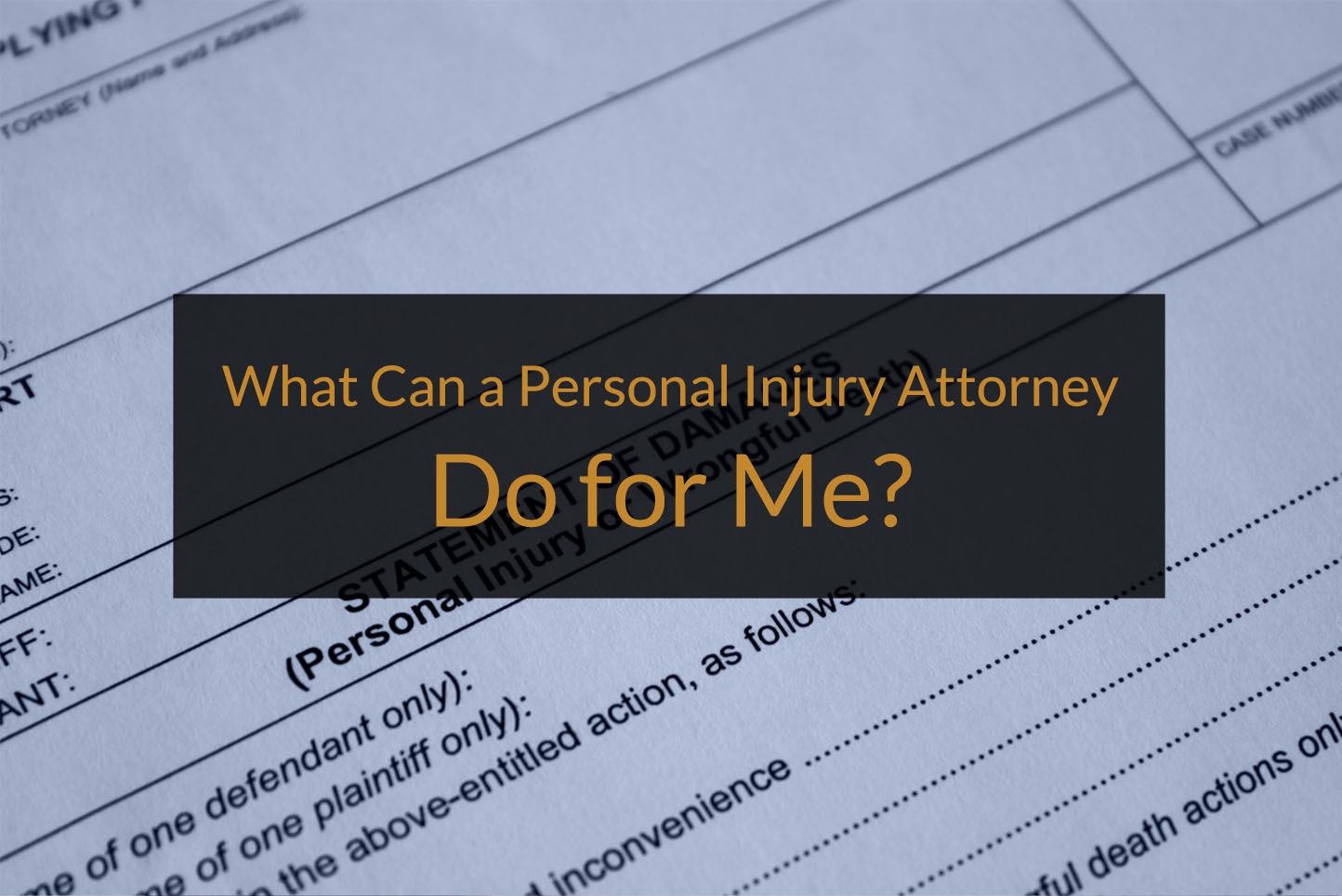 Learn What Personal Injury Attorney Can Do for You.
People often wonder, or even ask, "what can a personal injury attorney do for me?"  The ultimate answer is maximize your recovery and be there for you every step of the way during a difficult, confusing and unfamiliar process.  Most people who are injured by the negligence of another have never been through the process of a claim before and do not even know how to start.  This can cause anxiety over the process itself, when injured people already have enough to worry or become anxious about.  A personal injury attorney can ease this anxiety in a variety of ways throughout the claims process.  Remember, the insurance companies do this type of thing every day.  Injured people do not.  This is why having an experienced personal injury attorney is important.
EARLY IN YOUR PERSONAL INJURY CLAIM
Early in the process, a personal injury attorney can gather and preserve evidence, have evidence looked at by an expert if necessary, get your claim started the right way, help you choose appropriate medical specialists for your type of injuries, insure that the opinions of your treating physicians are preserved, and contact witnesses and preserve what they have to say for future use, just to name a few of the things in which most people lack experience.  Perhaps most importantly, an experienced personal injury attorney can help protect the injured person from him or herself.  Doing these things improperly can compromise a case later on.  The insurance company will likely want the injured person to give a recorded statement, which may sound ok, as long as you tell the truth, but can also hurt your case later.  Insurance companies are very experienced in these matters, including taking statements.  This experience often translates into getting people to say things that although true, are misleading, or incomplete and then this is used to try and show inconsistencies in a story when the entire, true story comes out eventually.  A personal injury attorney can speak for you, in lieu of this statement, or if a statement becomes absolutely necessary, the attorney can prepare you to handle questions that would otherwise be confusing, avoiding the pitfalls that can occur otherwise.
THROUGHOUT THE ENTIRE PROCESS YOUR PERSONAL INJURY ATTORNEY PROTECTS YOUR RIGHTS 
As the claim progresses, the insurance company will want to know how things are progressing and if you don't have a lawyer, you will have to do this yourself.  This gives the insurance company multiple opportunities to use your own words to help them build a defense against your claims.  A personal injury attorney can update the insurance company for you, by continuing to gather and preserve evidence and periodically providing it to the insurance company in an orderly and controlled manner.  You may be harassed by bill collectors due to the problems you are experiencing from your injuries.  A personal injury attorney can stop this harassment, so you can concentrate on getting well.  A personal injury attorney can also organize and catalog what is gathered for future use and prepare for trial, should that become necessary.  Good trial preparation starts at the very first client meeting, and not just weeks or months before the trial starts.  It goes without saying that the average injured person is in no reasonable position to try their own case in court.  But by the same token, most don't know how to continuously prepare for that trial, if necessary, either.  Health or other insurance companies may assert liens for reimbursement of injury-related treatment bills they have paid out of your recovery.  In some cases, these liens are valid and must be taken into consideration when resolving or trying a case.  In other cases, these liens are not valid and do not have to be repaid out or your settlement or verdict, but the health carrier will still try to assert them.  Do you know which are valid?  Even in the case of valid liens, often you do not have to reimburse to them the full amount of the payments they have made.  Do you know the formulas used to diminish repayment?  An experienced personal injury attorney knows how to sort through this.
YOUR PERSONAL ATTORNEY'S JOB NEAR THE END OF YOUR CLAIM
At some point, when all of the damages can be ascertained, like the impact the injury has had on your life, medical bills, liens for reimbursement claimed by your own health carrier, wage loss and all other expenses made necessary by the injury, it will be time to ascertain the value of your claim.  This is yet another area wherein most injured people have no experience.  Since the personal injury attorney has already been doing the things mentioned above, he or she will likely only need to get a few final items to start the evaluation process.  There aren't any mathematical formulas to ascertain the value of a case.  Since every case is somewhat different, both in the liability or fault aspect and the injuries and damages aspect, this is where the experience of the personal injury attorney again shows its importance.  An experienced personal injury attorney knows how to evaluate a case to ascertain its value.
Once value is ascertained, then it is almost always wise to try and resolve the case amicably by reaching a settlement.  This is true because trial is an expensive gamble and a settlement assures that the injured party is compensated in a known amount.  First, an experienced personal injury attorney can help you decide if you should accept an offer as fair, or proceed to trial to take your chances.  Sometimes the decision is easy, but most often, it is not.  How do you get to the point of deciding, you may ask?  Negotiation.  The insurance companies and their attorneys are very experienced in negotiating settlements and their goal is to pay the least amount of money possible to get a case resolved.  If you don't know how to ascertain the value of your case and don't know how to negotiate, you have little chance of maximizing the offer of settlement and the insurance companies will achieve their goal-at your expense.  If the insurance company never extends a fair offer, then trial becomes necessary.  A courtroom can be an intimidating place for someone who has never been there before.  There are certain rules that must be followed to present a case and get your evidence into the record to be considered by the jury.  Your doctors must be questioned appropriately to get their opinions into the record.  Experts in certain fields may have to testify in some cases, and must be questioned on their opinions.  Arguments, both legal and factual will need to be made.  A jury must be persuaded to rule in your favor. As stated above, most injured individuals don't even know where or how to start the process.  An experienced personal injury attorney does and can help maximize your recovery, whether by settlement or verdict.